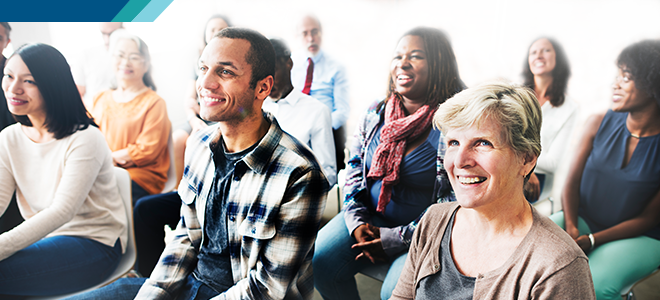 IGM Financial Inc. ("the Company") is one of Canada's leading wealth and asset management companies whose activities are carried out principally through three operating companies – IG Wealth Management, Mackenzie Investments and Investment Planning Counsel – each of which operates as a distinct entity in the financial services market.
At IGM Financial, our core business is helping Canadians to plan for and achieve their financial goals. Because of this trust placed in us, we have a long-standing commitment to responsible management in all we do. Our commitment starts at the top, demonstrated by our Corporate Responsibility Statement set by our Board of Directors.
Our priorities
While international sustainability-focused organizations come together to tackle urgent issues, we also work to determine how we can contribute. We are guided both by the standards they champion and by those to which we hold ourselves – as a corporation working to create long-term, sustainable value for our stakeholders and communities. One important framework is the United Nations 17 Sustainable Development Goals (SDGs), which are a call to action to end poverty, protect the planet and ensure that all people enjoy peace and prosperity. See how we are aligning our business strategy to support the SDGs.
Prepared in accordance with the Global Reporting Initiative (GRI) Standards, we developed a process to identify a wide range of environmental, social, and governance topics relevant to our stakeholders and IGM Financial. We continually engage with our internal and external stakeholders to gather their input on the importance of these topics and to ensure we are focused on the right priorities. We also consider emerging trends and issues relevant to our industry peers.
This process informs our materiality matrix and enables us to confirm the priorities we have set out below for our corporate responsibility strategy. For full details on the process used to develop our report content, report scope and external assurance, see our GRI Reporting document.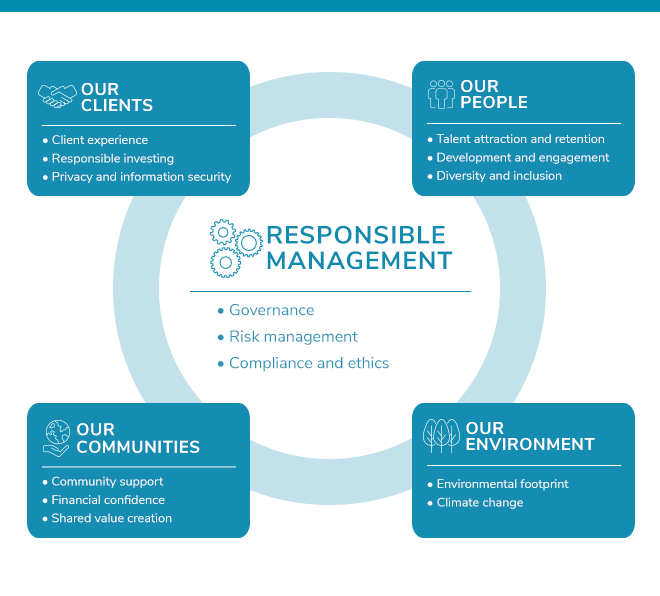 Stakeholder engagement
Listening to our stakeholders is an important part of being a responsible company, as it serves as a mechanism for communication and transparency and helps us to meet stakeholder expectations.
To develop this report, we reflected on recent stakeholder feedback received either directly or through external mechanisms. Most of our engagement takes place on a day-to-day basis through ongoing interactions with our clients, employees, shareholders, and the financial advisors marketing our products and services. We also employ more formal methods of engagement such as surveys, forums and meetings.
Our engagement tactics and recent examples are described below.
Clients
How we engage

Annual client surveys
Annual Financial advisor surveys seeking feedback from advisors and the clients they work with
External websites
Client service call centres
Client Advisory Councils

2018 Examples

IG Wealth Management launched a new client engagement survey administered by Gallup® and Advanis. Results create opportunities to improve the client experience and to align advisor compensation with client satisfaction.
IG Wealth Management Client Advisory Councils met in Toronto and Winnipeg – as an opportunity for clients to share their insights and ideas and provide input on client-related initiatives. The councils are chaired by the Office of Client and Regulatory Affairs. Corporate responsibility and responsible investing were topics of discussion in 2019.
In 2019, Mackenzie Investments commissioned a survey of more than 1,500 Canadian investors. The questions focused on demand and knowledge of investors regarding responsible investments in Canada.
Shareholders
How we engage

Annual Meeting and annual report
Quarterly reports, earnings releases and calls
Meetings and presentations
External website
Annual CDP reporting

2018 Examples

We engaged with ESG-focused rating firms regularly to understand and address corporate responsibility trends and disclosure requirements of shareholders.
2018 included a substantial increase in institutional investor engagement including conferences, non-deal roadshows and one-on-one investor meetings. Investor relations meetings in 2018 included increasing communications regarding ESG topics.
To address our shareholders' requests for disclosure on climate change, we respond annually to the CDP survey. Our 2018 reporting earned us a position in the CDP A list, one of ~140 leaders out of more than 7,000 respondents.
Employees
How we engage

Annual employee engagement survey
Employee forums and websites
Volunteering opportunities
Regular performance and development discussions
Ad hoc surveys for topic-specific insight

2018 Examples

All three of our operating companies partnered with Gallup to deliver Gallup's Q12 employee engagement survey. Employees are surveyed annually, and results are benchmarked against global organizations.
As part of Mackenzie Investments' leadership development program, program participants are tasked with a business challenge and have an option to solicit input from employees by designing and executing surveys. In 2018, employees were asked for feedback on responsible investing and designing a workplace to attract and retain top talent.
Human Resources and Facilities partnered to engage employees regarding their needs and expectations, to plan for future workplace strategies.
~100 employees participated in the first-ever 48-hour IGM hackathon, where they worked with peers, leaders, and external experts to create innovative ways to personalize advice and services to clients.
~150 employees, were invited to participate in discussion groups with IGM's new Chief Human Resources Officer to share their opinions about their workplaces, employee experience, and company culture.
Financial advisors
How we engage

Regular surveys at each operating company
Client service teams and call centres
Annual conferences, events and training
Meetings, focus groups and advisory panels

2018 Examples

Each operating company has a separate annual survey process for their financial advisors.
Field network advisory groups are an opportunity for IG Wealth Management advisors to contribute thoughts and ideas on initiatives and policy developments. In 2018 there was a focus on enhancing the diversity of these groups.
Third-party advisors who work with Mackenzie Investments are invited each year by Environics to complete its Advisor Perception Study, in which they rate the company in terms of product performance, relationship-building, sales and marketing team effectiveness, and overall business operations.
IG Wealth Management advisors share ideas and best practices related to improving their business and the client experience through the Idea Network, an online collaboration platform. A key topic in 2018 was training and development.
Industry partners
How we engage

Memberships on regulatory advisory committees and industry associations
Meetings with industry associations, provincial securities regulators and self-regulatory organizations
Participation on regulatory roundtables and public submissions on regulatory proposals
Conferences and events

2018 Examples

As members of the Investment Funds Institute of Canada and the Conseil des fonds d'investissement du Québec, we participated in member working groups and task forces.
We participated in the regional and district councils of the Mutual Fund Dealers Association of Canada (MFDA) and the Investment Industry Regulatory Organization of Canada (IIROC).
We contributed on committees struck to consult on securities regulation, financial planning, seniors and vulnerable investors, liquidity risk management, accounting and tax legislation.
We are involved in protecting client interests and resolving issues through our roles on the boards of the MFDA and Ombudsman for Banking Services and Investments (OBSI) and as a member of the Ontario Securities Commission's Securities Advisory Committee.
Communities
How we engage

Meetings and events with various charities, non-governmental organizations and national organizations supporting charities and volunteerism
Employee surveys, events
Financial literacy publications, workshops, resources and website

2018 Examples

We are members of the Conference Board of Canada's Corporate Community Investment Council, Business Council for Sustainability, and Volunteer Canada's Corporate Council on Volunteering. As members, we attend meetings to help advance corporate responsibility in our businesses and throughout Canada.
As part of our partnership with the Canadian Foundation for Economic Education (CFEE), IG Wealth Management financial advisors engage with schools to present CFEE's Money & Youth: A Guide to Financial Literacy. In 2018 our advisors also participated in workshops with seniors and newcomers to Canada.
The Mackenzie Investments Charitable Foundation hosts Charity Fairs for employees to raise awareness of the partner charities that they support, and to engage and educate employees.
We participated in a session with multiple organizations to educate the Government of Manitoba on the lessons we have learned from greenhouse gas emission accounting and ways the government could support emission reporting in the future.