Governance
GRI 102: 18-20, 22, 23, 25-27, 32-34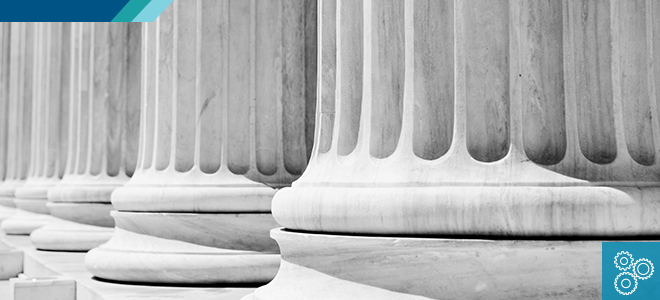 A robust system of governance is critical to our long-term sustainability and success. Our corporate governance framework and processes, ensure that all of our decisions and activities, including those pertaining to environmental, social and governance (ESG) matters, protect the long-term interests of our stakeholders. See our Management Proxy Circular and Governance section of our website for details on our board structure and governance model.
Corporate responsibility governance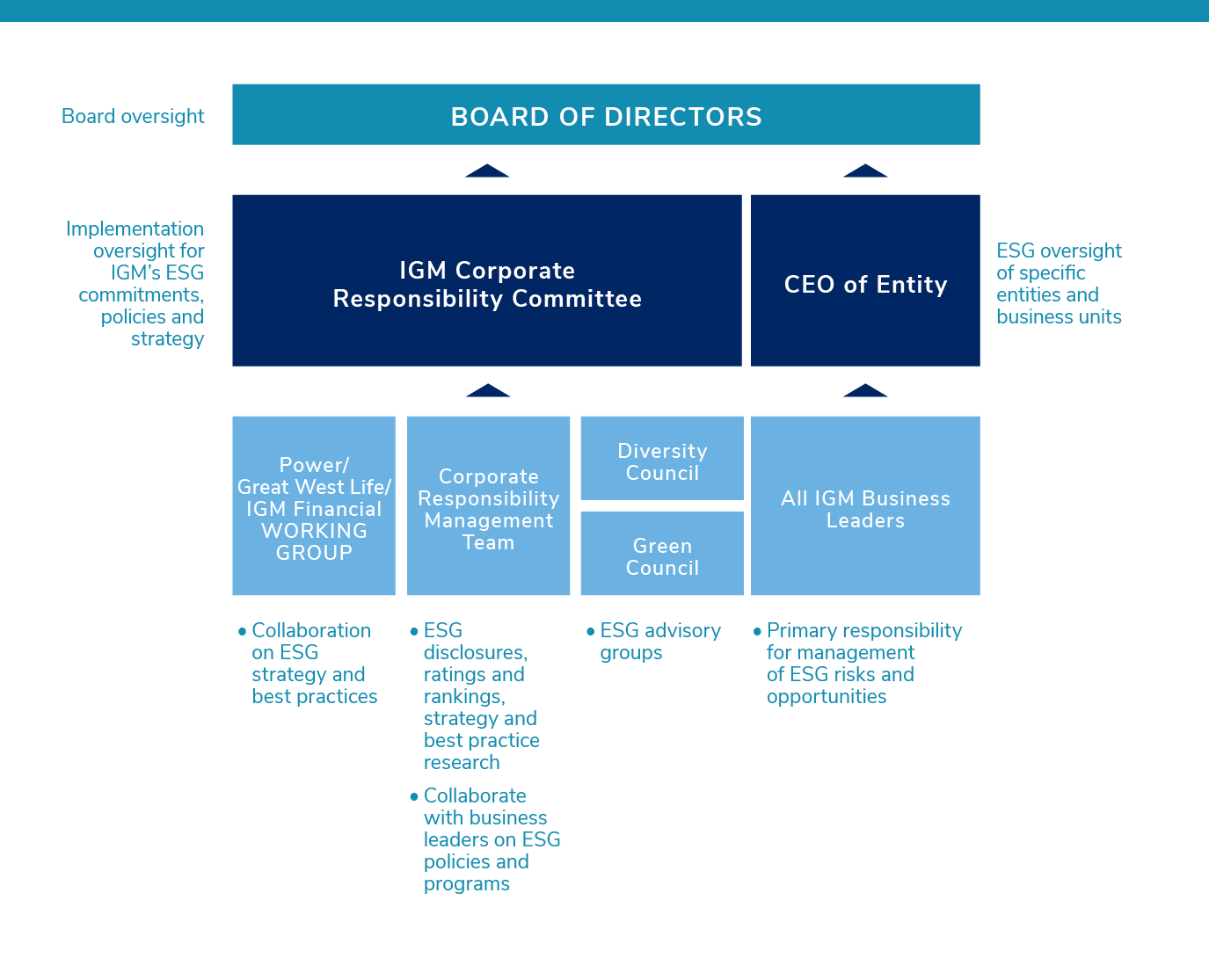 Our Board of Directors has approved our Corporate Responsibility Statement, which formalizes our long-standing commitment to corporate responsibility.
The Board monitors implementation of the Company's policy and strategy with respect to corporate responsibility. Each year we discuss our corporate responsibility plans and current ESG issues with the Board.
The Senior Vice-President and Treasurer is the appointed corporate responsibility lead and chairs the Corporate Responsibility Committee. Committee members are:
President and Chief Executive Officer of IGM Financial
Presidents and Chief Executive Officers of the operating companies
Executive Vice-President and Chief Financial Officer
Executive Vice-President, General Counsel Senior Vice-President and Treasurer
The Corporate Responsibility Committee is responsible for ensuring the implementation of corporate responsibility policy and strategy, as well as the approval of annual corporate responsibility reporting. They report to the Board on an annual basis or as necessary where critical concerns arise. No critical concerns were raised in 2018.
Supporting the Corporate Responsibility Committee is a Corporate Responsibility management team responsible for reporting, stakeholder engagement and collaborating with business leaders to advance ESG-related topics. They also meet regularly with the corporate responsibility teams across the Power Financial Corporation group of companies to align commitments and share knowledge on initiatives.
Also supporting the Corporate Responsibility Committee are two committees with focused environmental and social mandates. The IGM Financial Diversity and Inclusion Council guides the implementation of our strategy, including driving awareness and involvement. The IGM Financial Green Council oversees continuous environmental improvements to business operations and works with committed teams of employee volunteers to help our people improve their sustainability efforts at work and at home.
IGM Financial's approach to investing responsibly
IGM Financial takes a responsible approach when investing money on behalf of our clients. IGM Financial's two significant operating companies, IG Wealth Management and Mackenzie Investments are investment managers who are signatories to the Principles for Responsible Investment and have policies regarding incorporation of ESG practices in our investment funds. In addition, IG Wealth Management, Mackenzie Investments, and Investment Planning Counsel all have Responsible Investment Policies.
IGM Financial operates through a number of different businesses. When considering potential acquisitions, we conduct a robust business assessment to identify the potential long-term risks and opportunities of the investment. ESG factors are considered through this process.
We oversee IGM Financial's investments through an active ownership approach where our executives sit on the Boards of Directors of the companies we control and other strategic investments. Through regular interaction with the senior management and Boards of these companies, we engage on ESG issues to ensure that our investments are being managed in a manner consistent with our responsible management philosophy and Corporate Responsibility Statement.