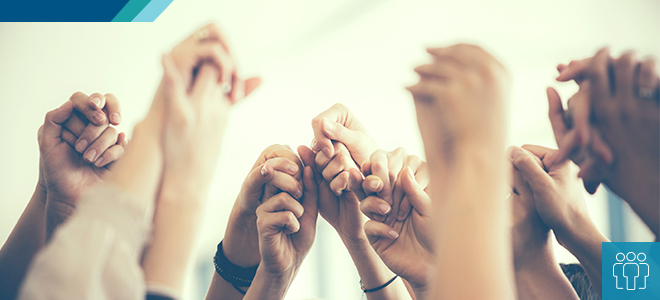 Diversity and inclusion (D&I) is about empowering people by respecting and appreciating what makes them different. IGM Financial's operating companies benefit from attracting a diverse workforce; having a range of perspectives, experiences, lifestyles and cultures helps us to be innovative, make better decisions and better serve our clients.
We want our people to feel included, valued and respected, in a workplace that:
Offers equality and diversity in employment, appointment and advancement
Ensures that the business of the company is carried out with the highest ethical standards, guided by our Code of Conduct and Respectful Workplace policies
Protects them from discrimination, harassment, threats or violence
Treats them with dignity
Is 100% committed to respectful workplace behaviour
Voluntarily commits to support and respect internationally proclaimed human rights wherever we operate
Governance
Our approach to D&I starts at the top. Our executive-level Diversity Council is responsible for championing D&I initiatives, to drive awareness and involvement. D&I is a key strategic priority and our CEOs have objectives tied to our success in this area. The Council includes senior leaders with responsibility for the IG Wealth Management advisor network, as well as leadership for employees.
Implementation of the employee Diversity and Inclusion Strategy and related initiatives for our 3,300 employees is led by the Executive Vice-President and Human Resources Officer, together with the Vice-President, Organizational Development. The Human Resource team is our Centre of Expertise for our D&I focus, working with employees and external partners to fulfill our strategic objectives. This includes supporting our employee "Partners in Action" employee affinity groups that work together to enhance awareness of key areas of focus.
With more than 3,700 independently employed financial advisors located coast to coast, we are uniquely positioned to attract a diverse group of financial advisors to our company. We want them to represent and be thoughtfully inclusive of the diverse Canadian population that we serve.
A Diversity and Inclusion Committee made up of senior leaders reviews the D&I practices of our advisor network. The committee spearheads a number of initiatives that focus on leadership competencies, development of mentorship programs and affinity groups, diversity training, and the piloting of diversity and inclusion recruitment tools. In addition, the Diversity and Inclusion Field Network Advisory Group, led by executives from our Senior Distribution Leadership team, provides a group of advisors and field leadership the opportunity to contribute their thoughts and ideas on various initiatives and policy developments.
IGM's Diversity and Inclusion Strategy
Advancing D&I is one of the strategic priorities of our organization. Our Diversity and Inclusion Strategy helps us to ensure that our practices, policies and approaches are inclusive and engaging for all. Our commitment is ongoing and rooted in learning along the way.
We have three objectives to drive our commitment, escalate high performance and help evolve and grow our business:

See how we advanced towards these objectives in 2018:
Advancing internal education, skill building and awareness
We are committed to enhancing the skills of our people to help foster work environments where a variety of different voices are encouraged and heard.
To help recognize and overcome bias in their daily lives, employees at IG Wealth Management and Mackenzie Investments were offered educational opportunities in the form of a speakers series, interactive web conference, and online resources, to help them improve decision making and professional relationships.
Our ongoing hosting of the Kairos Blanket Exercise helps employee participants to better understand the policies and actions that have affected, and continue to affect, Canada's Indigenous Peoples.
Both IG Wealth Management and Mackenzie Investments continued to offer the "Taking the Stage®" program for women, including a specialized program for IG Wealth Management advisors, focused on how to drive leadership presence and effectiveness.
D&I training is a priority in IG Wealth Management advisor field management education programs, at the company's national conferences and also at local region offices. In 2018, the company's new Diversity and Inclusion Best Practices and Awareness Guide was launched across the country.
Through promotion of a year-long multicultural calendar, employees can celebrate and learn about special events and observances of all faiths and cultures, such as Multiculturalism Day, International Women's Day, National Indigenous Day, International Day of People with Disabilities, and Pride.
Enable upward mobility of women and other underrepresented groups
Diversity in the workplace is a powerful advantage – improving our problem-solving capabilities and helping us to be more collaborative, innovative, and creative.
Mackenzie Investments created a platform, Mackenzie Together: Championing Women's Worth, to solidify our commitment to gender equality issues. On our journey, we are working with our people leaders to empower them with training, tools and ways of working to think more inclusively.
Our gender-neutral recruiting works to remove impairments to the successful recruitment and selection of women. We ensure we have gender neutrality in our job posting pilot content, targeted sourcing strategies, candidate attraction, and interviewing materials.
We have talent review tracking to measure and monitor – in regard to gender – who we hire and promote, who our potential leaders are, our succession planning needs, and how we are tracking relative to our peers.
IG Wealth Management hosted the first-ever Canadian Summit for Women in Financial Planning in Toronto, attended by 200 women, including female financial planners from independent firms and bank brokerages.
We continue to monitor our progress annually to ensure we are making real gains regarding gender diversity among our leaders and among our IG Wealth Management advisors:
At the IGM Board level, 33% of our directors are women, up from 6% in 2015 – the year the Board diversity policy was established.
Among employees, our goal is to have at least 35% of our executive roles– Vice-President and above – held by women by 2020. In 2018, women comprised 31% of our executive team, with women achieving 45% of the promotions at these levels.
Among our independent financial advisors at IG Wealth Management, the goal is to have at least 35% women in the role by 2020. At the end of 2018, women made up 30% of the company's total advisor network and accounted for 36% of all new recruits through the year.
All three companies are signatories to the United Nations Women's Empowerment Principles, which promote gender equality in the workplace, communities and marketplace. The Principles will guide us as we assess our policies and programs and help us to take action to empower women.
Deepening partnership opportunities with key internal and external community groups
We are committed to collaboration with those who have the expertise, community knowledge, leadership and creativity to get us to our goals.
To help us gain new perspectives on gender-related challenges, IGM Financial partnered with the Institute for Gender and the Economy, which promotes an understanding of gender inequalities and how they can be remedied in the world of business; Women in Capital Markets which is committed to advancing women in the finance industry; and Catalyst, a global nonprofit that works with some of the world's leading companies to build workplaces that work for women.
IG Wealth Management has become a partner of Winnipeg's Indigenous Accord and has committed to acting on one goal each year for three years to help advance a specific Call to Action of Canada's Truth and Reconciliation Commission.
Our Downie-Wenjack Legacy Room at our head office in Winnipeg continued to be a space where our people can learn the story of residential schools and be inspired to act in the name of reconciliation. Our ongoing financial commitment to the Downie-Wenjack Legacy Fund helps support grassroots acts of reconciliation across Canada.
Our own people are also critical partners in our mission. In 2018, new "Partners in Action" employee groups at IG Wealth Management and Mackenzie Investments worked to engage their colleagues in D&I initiatives.
Business Resource Groups were established by IG Wealth Management advisors – one for women and one for millennials – to identify and achieve goals that support improvements in their area of diversity.
IG Wealth Management is a supporter of the Aboriginal Business Education Partners(ABEP) scholarship program at the University of Manitoba and in 2017 supported the Canadian Aboriginal Human Resource Management Association.
Both Mackenzie Investments and Investment Planning Counsel support the Toronto Region Immigrant Employment Council (TRIEC) Mentoring Partnership, providing opportunities for its employees to work with new immigrants seeking employment in Canada.
IG Wealth Management participated in Winnipeg's Youth CEO program, part of an Indigenous youth initiative, which placed a high school student at the company for one week to gain experience in the business.
Also supporting our D&I strategy is our Respectful Workplace Policy, which all employees and IG Wealth Management advisors review and acknowledge each year as part of our Code of Conduct review.