Development and engagement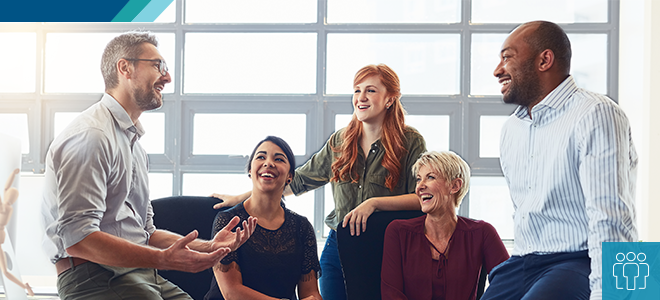 The career development and performance of our people is critical to our success. Everyone thrives when we invest in the development of our people to contribute to a healthy, vibrant, and innovative work environment.
Our operating companies offer extensive support for developing our people's skills and capabilities, as we want our people to develop and advance their careers with us. We promote meaningful discussions with our people around performance and development and have a policy to promote from within, wherever possible.
Employee performance and career development
Through a program we call Leading Performance: Building Careers, we are enhancing our approach to developing our people and facilitating high levels of performance. The program centres around setting clear expectations on leadership behaviours and performance objectives, providing ongoing coaching and feedback, and implementing development plans for all employees in partnership with their leaders. Under the new program, employee annual objectives are aligned with the company's overall strategy, and employees have quarterly meetings with their leaders to review progress. In addition, the compensation of people leaders is tied to the execution of this program to ensure it is a priority for all leaders across the company.
We are focused on developing our employees' skills both in the short-term to be successful in existing roles, but also over the longer-term to develop skills for future roles across the organization. We provide learning opportunities through a combination of formal training, feedback and coaching, and on-the-job experience.
We offer a wide-range of e-learning and classroom programs to support our people in developing their technical and professional skills and in maintaining mandatory licenses and industry credentials. We also encourage external training and offer reimbursement programs to help cover costs.
LEADing@IG Wealth Management and LEADing@Mackenzie are hallmark programs in place for high-potential leaders that feature experience-based development through real projects at IGM.
Continual learning for advisors
At IG Wealth Management, the company's industry-leading training got a boost in 2018 with the launch of IG University, which designs customized educational opportunities supported by internal experts and world-renowned education partners. Our programming is anchored to the core pillars of financial planning, practice management, professional responsibility, products and leadership development and segmented from a fundamental to expert level. For the past 10 years, IG Wealth Management has finished first among full-service dealers in the "Ongoing Training" category of the Investment Executive Dealers' Report Card.
IG Wealth Management has also incorporated the Certified Financial Planner (CFP) program into their core training for new advisors and is supporting existing advisors through the program by providing study plans, examination preparation, and instructor support for the courses and exams. We also have proprietary performance benchmark tools and a resource library that helps advisors identify strengths and opportunities in their practice and continuously improve their performance.
At Mackenzie investments, we believe that when we work together we achieve better outcomes and that includes our approach to training. Our cross-country team works with advisors to support them in managing and growing their business. The team offers advisors workshops, keynotes, tools and resources on value-added topics. Topics covered include tax, disability and estate planning and strategic philanthropy. With these valuable resources, advisors deepen their knowledge and strengthen the advice they bring to their relationships with clients.
At Investment Planning Counsel, in-depth training for financial advisors, assistants, and branch managers is designed to provide knowledge and skills to help them excel and assist them with their professional growth. The approach consists of online learning tutorials, weekly virtual classrooms, and in-class training.
Developing a pipeline of leaders
Our strategies for business growth and transformation at our operating companies require a strong focus on developing our current leaders and attracting the best and brightest to lead us into the future.
We support and develop employees at all levels of the organization while working to anticipate emerging talent gaps. Our leadership development approach includes a consistent succession planning framework to identify and develop employees who have leadership potential, and to identify successor candidates for critical senior roles. Annual talent and succession reviews assess leadership potential, and assist us in creating strategies to develop talent and take other steps, as required. Training and resources are geared to the specific needs of leaders and targeted high-potential individuals.
We are also committed to diversity within our leadership team and employ the Humphrey Group Taking the Stage® program to ensure we are strengthening the leadership skills of women. The program focuses on a strong presence, communication skills, and building mentorship support.
Engaged teams perform better
We understand that the passion, commitment and dedication of employees are key drivers that can influence our culture, client experience and shareholder returns. Each of our companies has a strong focus on engagement and, through the confidential Gallup employee engagement survey, regularly seeks employees' opinions, to understand what matters to them, how we are doing and how we can improve.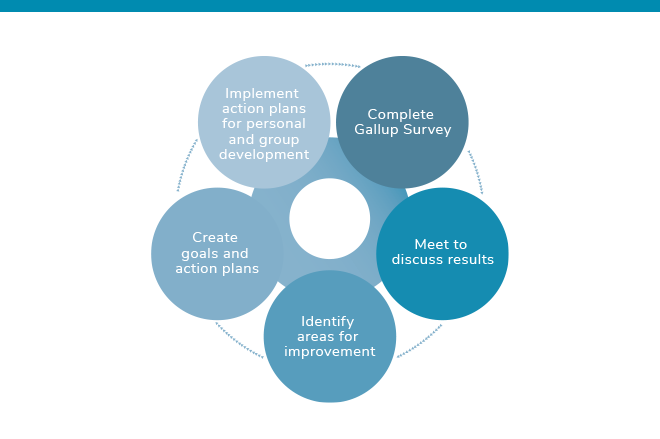 Leaders review Gallup results with their work teams, and then work individually and as a group on action plans for improvement. This ongoing cycle contributes to team discussion, accountability and action, and enables our people to contribute to their own development and to the success of the group.