Our People
GRI 102: 46 | 103: 401, 405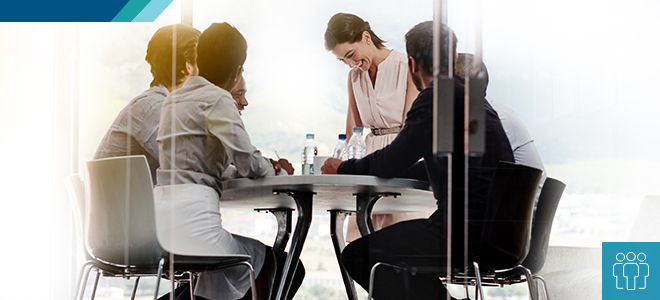 We count on our people to do great things for our clients, shareholders, community partners and each other. We offer a welcoming, inclusive work environment that attracts top performers and supports and recognizes their talents, experience, productivity and diversity.
Our priorities and why they matter to us
Our business relies on our people for success. To attract and retain outstanding people, it is essential that we offer competitive compensation and benefits and wellness programs that motivate winning behaviours and enhance our culture. Our training and development approach, designed to identify the unique skills and knowledge required by each individual along with our use of feedback from our annual Gallup® employee engagement survey, contributes to the engagement of our people and best position them to serve our clients. We also foster diversity and inclusion, as we believe having a range of perspectives and backgrounds improves our decision making, contributes to successful client relationships and helps all of our employees play a part in our success.
Responsibilities
Our approach to our people begins at the top.
The Human Resources Committee of our Board of Directors reviews and approves compensation policies and guidelines, and oversees risks relating to our key human resources policies.
The executive-level IGM Operating Committee provides oversight on priorities, tracks performance and ensures that appropriate resources are allocated to deliver on our human resource strategies.
The Executive Vice-President and Chief Human Resources Officer oversees IGM Financial's integrated human resource policies and programs.
The Diversity and Inclusion Council is responsible for championing diversity and inclusion awareness and involvement across IGM Financial.
Tracking our performance
Each of our operating companies partners with Gallup to deliver Gallup's employee engagement survey, which takes a holistic view of engagement and identifies areas of strength and opportunity to help us raise our engagement levels and improve business outcomes. Employees are surveyed annually, and results are benchmarked against global organizations in the same industry to assess how we are doing. We are proud that our employee participation rates in the survey exceed those of industry peers.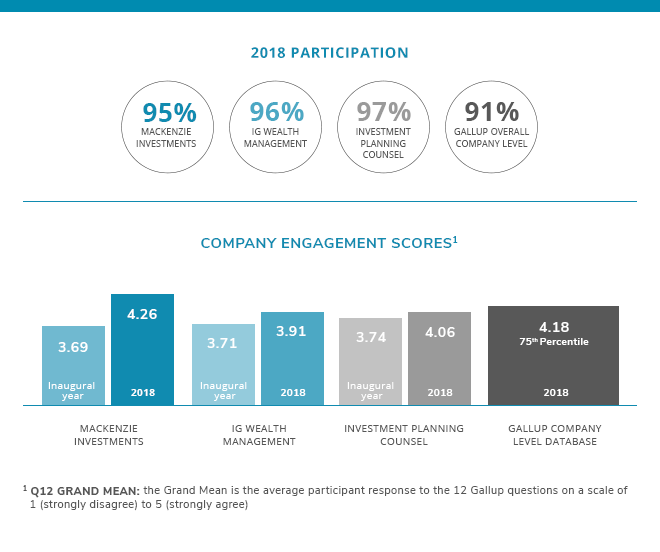 Mackenzie Investments was the first to partner with Gallup® in 2014, and has seen significant growth in its engagement score to an industry leading score of 4.26 in 2018.
IG Wealth Management and Investment Planning Counsel participated for the first time in 2017 and both increased engagement in 2018. See Development and engagement for more detail about how we use the Gallup survey and action planning process to drive a high performing culture.
See our Data table for additional information on our people including workforce diversity, performance development, turnover, and safety.