Climate change
GRI 103: 302, 305 | 302: 4 | 305: 5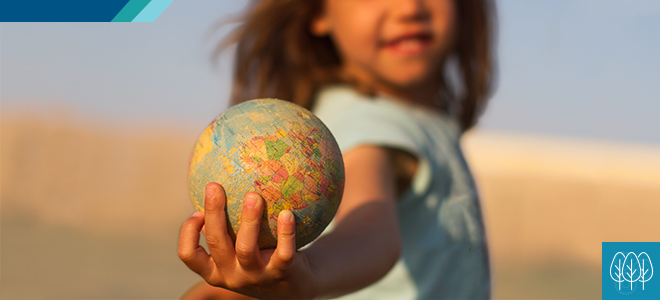 We believe that financial services companies have an important role to play in addressing climate change. As part of our responsible management philosophy, we proactively consider climate-related impacts on our business through our own operations, financial products and services, and supply chain.
IGM Financial demonstrates this commitment though our long-standing participation in the annual CDP survey (formerly Carbon Disclosure Project), which promotes corporate disclosures on greenhouse gas emissions and climate change management and includes reporting of our targets. For the 2018 survey, IGM was recognized by CDP as a corporate leader in climate change disclosure with a position on their Climate Change A List.
CDP has served to increase our awareness of the impacts of our operations and the drivers of our direct and indirect emissions. Read our latest CDP report for more details of how we incorporate climate-related governance and strategy into our business.
Investors are also interested in climate-related risks and opportunities. The Financial Stability Board's Task Force on Climate-related Financial Disclosures (TCFD) was established in response to this investor request for information. We are evaluating the TCFD recommendations, which include a framework for consistent, voluntary climate-related financial disclosures that provide decision useful information for investors and other stakeholders.
See Responsible Investing for more information on how we incorporate environmental issues, including climate change, in the development and management of our products and our active management approach.
Governance
IGM Financial Board of Directors provides oversight on corporate responsibility, which includes climate-related matters and review of progress against goals and targets. Through its risk management responsibilities, the Board is also responsible for ensuring that material climate-related risks and opportunities are appropriately identified, managed and monitored.
We believe that climate change has potential implications on strategy, risk management and financial performance. Having Board oversight responsibilities for climate change is important to ensure we effectively anticipate, assess, manage and disclose climate change risks and opportunities. Beyond the Board, there are many people throughout the Company who have a role to play in climate change:
Executive-led Corporate Responsibility Committee: Responsible for ensuring implementation of policy and strategy, establishing goals and initiatives, measuring progress, and approving annual reporting for environmental, social and governance matters, including climate change.
Chief Financial Officer: Responsible for overseeing implementation of the Corporate Responsibility and Enterprise Risk Management programs at the executive level, including climate change.
Corporate Responsibility management team: Responsible for reporting, stakeholder engagement and collaborating with business leaders who are accountable for advancing progress on climate change risks and opportunities.
Enterprise Risk Management (ERM) department: Responsible for developing and maintaining the Company's ERM program, framework and processes; providing risk management guidance and training to the company; and providing oversight, analysis and reporting on the Company's risks, including environmental risks, to the executive-management level Risk Management Committee.
Strategy and risk management
The identification and assessment of risks and opportunities at a company level is coordinated through the Enterprise Risk Management department who provide oversight, analysis and reporting on the level of risks relative to the established risk appetite of the Company.
Business leaders are responsible for identifying risks and opportunities, ongoing risk assessments and mitigation plans within their respective departments annually or more frequently as needed. This process is overseen by the Chief Executive Officers of the operating companies, and ultimately by the executive-led IGM Risk Management Committee who meet on a quarterly basis to review enterprise-wide risks.
Through our risk assessments, we identified climate-related risks including: ability to meet demand for environmentally-focused investment products and services, credit risk and asset volatility from carbon-exposed investments, and exposure to weather-related events that could impact our investments, mortgage lending portfolio, corporate properties, information technology systems and business continuity plans.
See Risk Management for more information on our Enterprise Risk Management Framework and Governance.
Metrics and targets
Since 2013 we have collected data to measure our greenhouse gas (GHG) emissions and address investor requests to disclose this information in annual CDP reporting. As part of this process, we have implemented short- and long-term emissions reduction targets and a renewable energy target:
40% reduction in absolute Scope 1 and 2 GHG emissions by 2020
This target represents a reduction of 932 tonnes from our 2013 emissions of 2,330 tonnes CO2e
50% reduction in absolute Scope 1 and 2 GHG emissions by 2036
This target represents a reduction of 1,165 tonnes from our 2013 emissions of 2,330 tonnes CO2e
80% of Scope 1 natural gas to be renewable by 2020
This target represents 4,879 Megawatt hours of natural gas
Our Scope 1 and 2 emissions have decreased substantially compared to our 2013 base year
Main drivers of this reduction are: energy efficiency projects and execution of our strategy and purchasing renewable energy for our owned office building.
We expect to meet or exceed our short and long-term reduction targets as we continue a focus on behavioural changes and facility upgrades.
Our Scope 3 emissions have also decreased from our 2013 base year.
Main drivers of this reduction are: facility upgrades and consolidation of our footprint, the purchase of green natural gas, and more recently, reducing our commercial travel impact through introduction of online advisor training.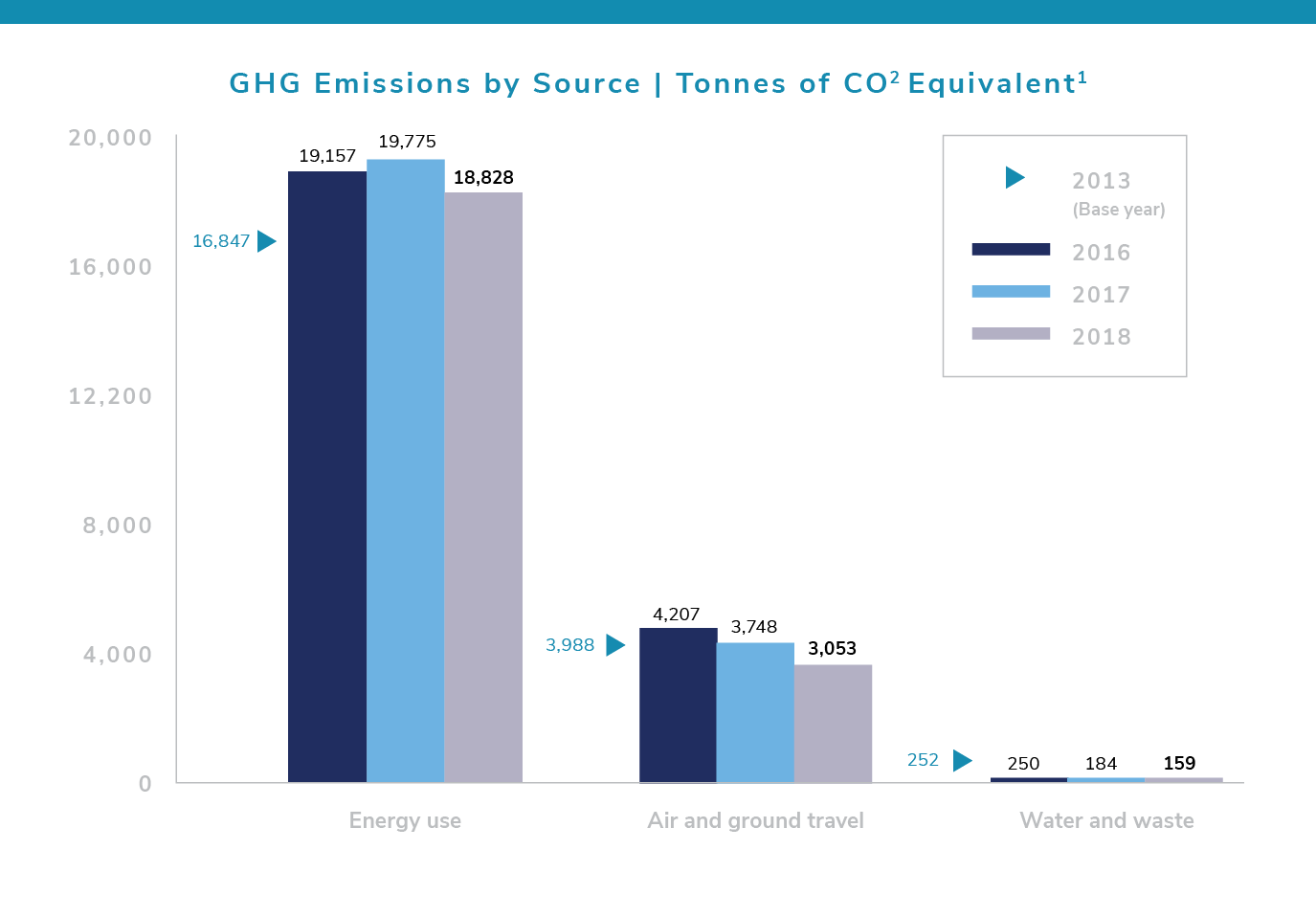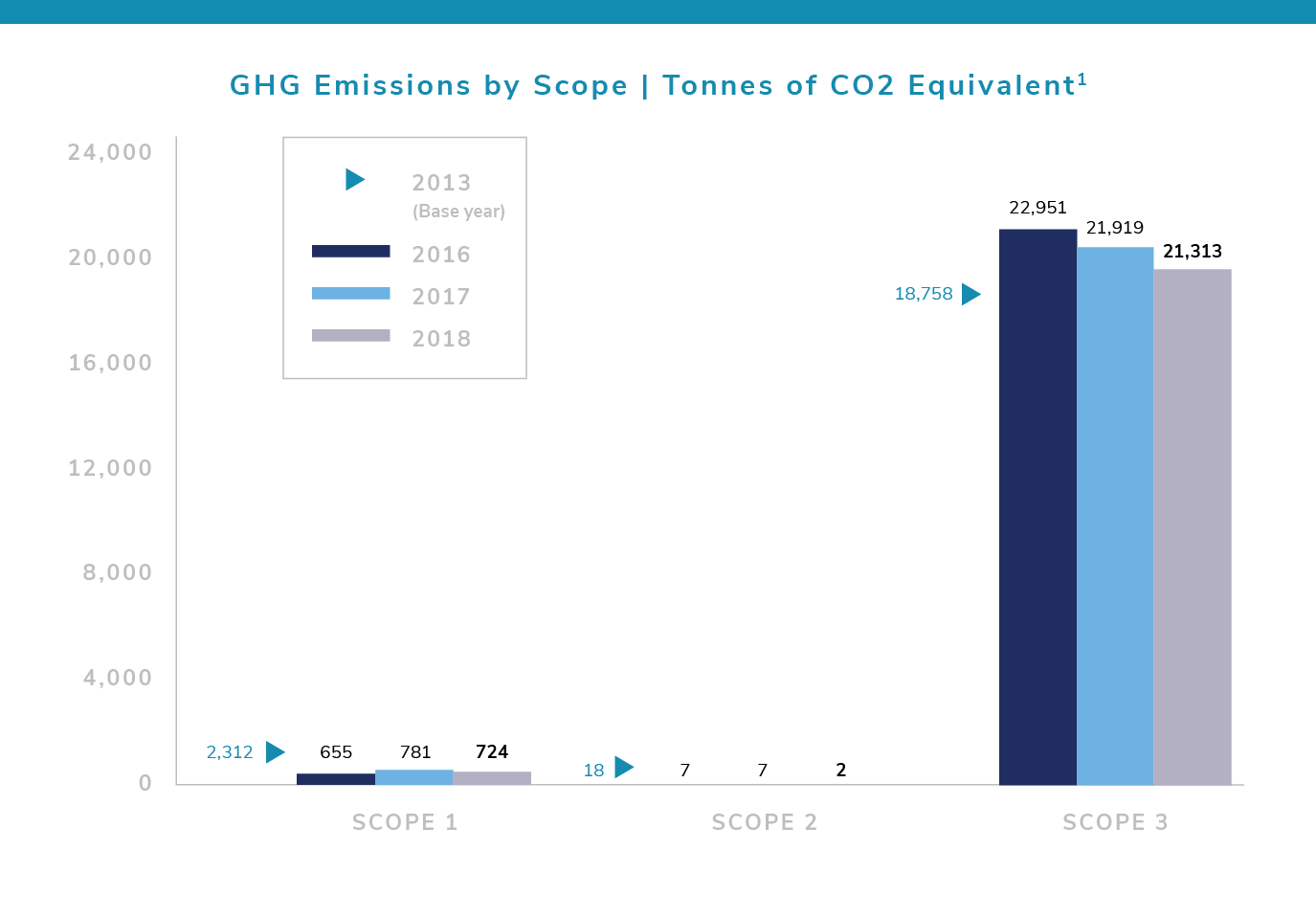 1We began measuring emissions in our IG Real Property investment fund in 2018. Prior years have been restated for comparative purposes. Our ongoing plans for office space efficiencies are expected to contribute to further Scope 3 emissions reductions in the coming years.
The Science Based Targets initiative (SBTi) is a collaboration between CDP, the UN Global Compact, the World Resources Institute and the World Wide Fund for Nature (WWF) that aims to raise corporate ambition and help businesses pursue bolder solutions to climate change. The SBTi is currently developing a method to set science-based targets for financial institutions' investment portfolios in support of keeping global temperature increase below 2°C compared to pre-industrial temperatures. We are committed to continually assessing our reduction targets and how we can support science-based methodologies as further advancements in this area occur.