Community Support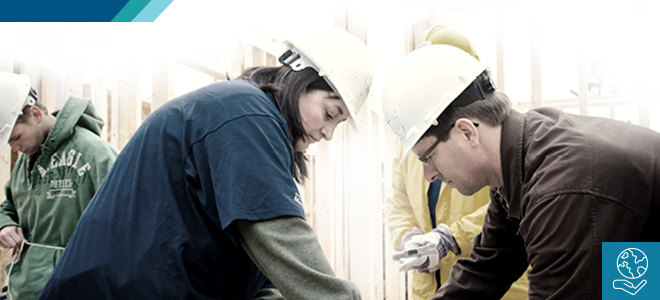 We work together to support a wide range of organizations and initiatives in the many communities across Canada in which we operate. Our operating companies are strategically aligned in their vision of community involvement, while adopting their own approach to philanthropy and volunteerism.
Community investment
Our community giving programs each have their own detailed guidelines and are a balance between centralized giving, directed from our corporate head offices, and decentralized decisions made by our people.
Our people have the ability to direct donations to causes important to them and the unique needs of the communities where they live and work:
At IG Wealth Management this is done by allocating budgets and decision-making to the region offices across the country.
At Mackenzie Investments this is done through the employee-managed Charitable Foundation.
At Investment Planning Counsel this is done, under the banner of IPC Cares,through an employee-driven Spirit Committee, and advisors also run self-directed initiatives in their communities.
All three companies also have programs that provide additional funding to help organizations that employees personally support.
IG Wealth Management and Mackenzie Investments are each designated a Caring Company by Imagine Canada, which works to strengthen Canadian charities and non-profits. Caring Companies commit to donating at least 1% of their average annual pre-tax profit to charitable/non-profit organizations, and to enabling personal giving and volunteer activities of their employees.
Each company individually manages their giving programs. Combined donations in 2018 totaled $9.7 million, benefiting more than 1,300 community organizations.
Volunteering
Our operating companies encourage and empower more than 3,300 employees, approximately 3,700 IG Wealth Management advisors and approximately 740 Investment Planning Counsel advisors to volunteer. Our people regularly share feedback about the importance of community service to them and in selecting us as their employer. Volunteer efforts at each company are facilitated through planned events, paid volunteer days, and ongoing support for Canada's National Volunteer Week every April.
Each year we recognize our outstanding volunteers through several awards programs including:
The Herbert H. Carnegie community service awards for IG Wealth Management advisors and field directors
The Murray J. Taylor Community Builder Award for IG Wealth Management region offices demonstrating a substantial commitment to their community
The Mackenzie Investments volunteer recognition event hosted by the President and CEO during National Volunteer Week
The IPC Cares Award for an Investment Planning Counsel financial advisor who demonstrates tireless community service
The Investment Planning Counsel Volunteer of the Year award to recognize an employee's community service
Several programs allow the most dedicated volunteers to augment the time they volunteer with financial contributions from our companies to their selected charities and not-for-profit organizations.
Operating company programs and highlights
IG Wealth Management

In 2018 IG Wealth Management donated $6.9 million to approximately 850 community organizations.

The company's main community focus is an extension of its vision to inspire the financial confidence of Canadians. We call this sponsorship and community platform IG Empower Your Tomorrow. We launched it in 2018 to increase the financial confidence of Canadians in communities from coast to coast. It champions financial education for those who stand to benefit the most: namely, youth, seniors, Indigenous Peoples, and new Canadians. See financial confidence for more details.

In 2018 the company became the first-ever national sponsor of the IG Wealth Management Walk for Alzheimer's, the largest fundraising initiative for the Alzheimer Society of Canada, with nearly 300 walks across Canada. The sponsorship is an opportunity for IG advisors, employees and clients to come together to raise funds and awareness to help families living with Alzheimer's disease and other forms of dementia. The company has committed to presenting financial confidence workshops across the country for those who have been impacted by dementia.

The company also supports a variety of local community organizations through its Employees in Action committees, which engage employees to raise money, collect material donations for local causes, and assist in directing company donations to the community. These committees partner with local community groups and embody the spirit of IG Wealth Management's commitment to the community.

IG Wealth Management's region offices across Canada are also empowered to decide where in their communities they allocate a significant portion of the company's charitable giving dollars, which often leads to our advisors giving their time as well.

Mackenzie Investments

In 2018 Mackenzie Investments contributed $2.7 million to over 400 community and sport organizations across Canada.

Through the employee-driven Mackenzie Investments Charitable Foundation, monies are raised each year to assist charities that benefit underprivileged, challenged and sick children, youth and young adults, especially children and youth at risk. The Foundation is funded by donations from employees, which are matched dollar for dollar by the company. Since the Foundation was established in 1999, it has provided more than $11.3 million in grants to the community. The Foundation also engages employees in volunteerism with planned events.

Mackenzie Investments is fueling the passion of winter athletes across Canada with a four-year sponsorship of Alpine Canada and Freestyle Canada along with supporting grassroots alpine skiing through a partnership with Alpine Ontario. In 2015, Mackenzie Investments also signed a six-year partnership with the PGA TOUR Canada to become the tour's first umbrella sponsor. In 2018, the Mackenzie Tour - PGA TOUR Canada raised more than $1 million for 12 charities across Canada.

Investment Planning Counsel

Investment Planning Counsel demonstrates its commitment to community service by encouraging employee volunteerism and contributing significant time to various charities.

Under the IPC Cares banner, the company supports and promotes community engagement and giving among employees and financial advisors to grassroots charities, both locally and abroad. Each year, employees and advisors spearhead initiatives to raise funds and awareness for a wide variety of causes.

IPC's international efforts include a multi-year relationship with communities in Honduras – whether it be to volunteer time to help build basic infrastructure, raise funds or provide material donations to local communities in Honduras.

IPC's Spirit Committee is a group of committed employee volunteers who spearhead employee charitable giving initiatives. They coordinate fundraising activities, encourage employee volunteering, and review requests for donations.