Compliance
GRI 102: 13, 17 | 103: 417, 418 | 417: 1 | FS: 15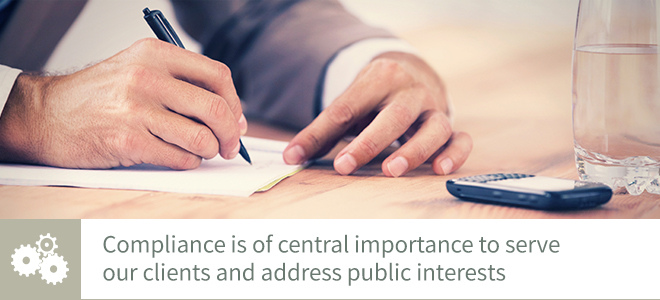 Compliance is of central importance to our business, and for us, leadership starts at the highest level. Our Board and executives have created a framework to support a culture of compliance across the Company to ensure internal standards, policies, laws and regulations are followed in all aspects of our business. 
IGM Financial's main operating companies – Investors Group, Mackenzie Investments and Investment Planning Counsel – are governed by internal policies and rules of  Canadian and foreign governments and industry regulatory bodies.  Our key areas of compliance are:

We have robust compliance programs and controls in place that are regularly assessed for effectiveness by the business units and periodically through our internal audit function. Regular reporting on compliance matters is provided to the Chief Compliance Officer and the President and Chief Executive Officer of IGM Financial and to the IGM Financial Audit Committee. Separate boards and committees at the operating company level also oversee investment management and distribution compliance of our funds.
Our Code of Conduct sets out our core values of responsible management and is distributed annually to all our directors, officers and employees for review and acknowledgement. The Chief Compliance Officer monitors compliance with the Code, updates as required, and reports to the Audit Committee.
It is supplemented by various operating company policies and procedures that set ethical standards and compliance expectations throughout the supply chain, including compliance manuals for Investors Group advisors and a Supplier Code of Conduct for companies who do business with us.
Offering products responsibly
Marketing and sales communications
Our mutual fund offerings are qualified for sale through the filing of a prospectus with regulators. All of our sales communications to clients in connection with those offerings are reviewed for accuracy and compliance with securities rules. We also have internal policies, processes and procedures to ensure we remain compliant with applicable requirements and avoid conflicts of interest.
In addition to applicable laws and regulations, our people must comply with internal policies in communicating product and service information. These policies are designed to ensure that clients are informed and provided with full, true, and plain disclosure about our products and services.
Knowing our clients and products
In keeping with our commitment to clients, securities requirements and our internal compliance manuals, advisors affiliated with Investors Group and Investment Planning Counsel must understand, document, and review at least annually the financial and personal situation of every client to ensure the suitability of their investments for their particular circumstances. Mackenzie Investments distributes its products through third-party advisors and dealers who are subject to their internal rules.
Our securities dealers and advisors are responsible for conducting due diligence on all products that are available for sale to clients. A team of experts reviews and assesses the products we offer to ensure they are suitable to offer to our clients. Our Enterprise Risk Management Framework also provides a comprehensive IGM-wide process for ongoing management of product-related risks.
Responsible investing and proxy voting
Our investment management operations incorporate environmental, social, and governance issues into their investment processes and actively engage with the management of companies our funds invest in.
Proxy voting is an important component of responsible investing, and consistent with our responsibility, we vote proxies in the best interests of the funds. Our investment management oversight function monitors our proxy voting. Responsible investment policies and proxy voting policies and procedures establish the principles that govern these activities.
Protecting public interest concerns
Anti-money laundering and anti-terrorist financing
We are committed to complying with legislation designed to deter and detect money laundering. We have well-established business practices and procedures to ensure compliance with applicable anti-money laundering laws, covering client identification and record keeping and the reporting of suspicious transactions.
We also carry out regular training for all of our people and incorporate sign-offs on anti-money laundering and anti-terrorist financing as part of our annual Code of Conduct distribution.
See the Data tables for more information (GRI- 417-2, 417-3, 418-1, 419-1).
Anti-corruption and anti-bribery
Our Anti-Corruption and Anti-Bribery Policy, which is reviewed and acknowledged annually by all directors, officers, employees and advisors of IGM and its subsidiaries, is overseen by the Vice-President of IGM Financial Corporate Compliance and the Chief Compliance Officers at each of our operating companies.
Our policy does not allow political contributions of any kind.
All of our operations are assessed for risks related to corruption. No critical concerns were raised in 2017.
Supporting a strong advice-based industry
Throughout our networks, we actively contribute knowledge and advocate in support of regulation that benefits the investing public overall.
We provide key executive leadership to support Canada's financial services sector, through roles in many organizations including the following:
Reporting concerns
In keeping with our commitment to high business and ethical standards, we established a Policy Regarding Reporting Concerns to address concerns, issues, or complaints regarding accounting, financial, internal controls, auditing matters, and legal, compliance or regulatory matters.
The policy, which is overseen by IGM Financial's Vice-President of Corporate Compliance, applies to each of our operating companies and outlines a confidential process for raising concerns, including a 24/7 whistleblower hotline and website, and a detailed process for a comprehensive investigation where warranted.
Privacy and Information Security
Because of the work we do, and the trust placed in us by our clients, advisors, and employees, privacy of information and data security are top priorities. See details about our programs and governance in the Privacy and information security section.