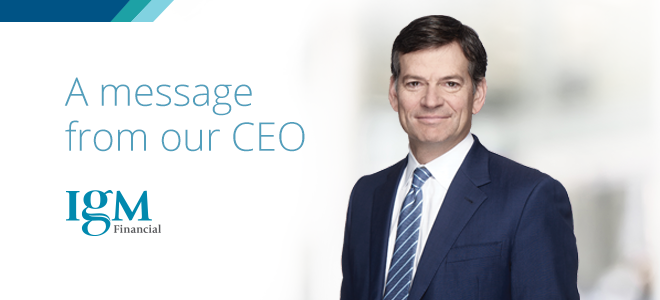 As a leading wealth and asset management company, IGM Financial is committed to improving the financial well-being of Canadians. We work hard to make a difference in the lives of the clients we serve, and in communities where we live and work.
Our clients are at the center of everything we do, and we strive to earn their trust every day. We are actively engaged in helping shape the future of the financial services industry in Canada and ensuring our clients' interests are being represented. This client-centric philosophy drives our decision making in every way, including our approach to corporate responsibility.
IGM Financial has the size and scope to positively impact key issues facing society and we take this responsibility very seriously. The United Nations Sustainable Development Goals (SDGs) have helped us identify and understand the pressing issues facing our world. We focus on five goals that are aligned with our business – the eradication of poverty, climate action, gender equality, strong institutions and community partnerships. We highlight the progress we make under each in our annual Corporate Responsibility Report on this website, which I invite you to read.
As a provider and advocate for professional financial advice, we are committed to increasing the financial literacy of Canadians. We demonstrate this commitment through IG Wealth Management's IG Empower Your Tomorrow, a sponsorship and community engagement platform we launched in 2018. This program focuses on building the financial confidence of those who stand to benefit the most: youth, seniors, new Canadians and Indigenous Peoples.
We are also committed to taking action on climate change, which the World Economic Forum identified as one of the greatest risks facing our world. In 2018, IGM Financial was honoured to be recognized on CDP's Climate Change A List as a leader in tackling climate change. Other key initiatives include having short and long-term greenhouse gas emission reduction targets, introducing our Mackenzie Global Environmental Equity Fund, expanding our commitment to active ownership, and engaging our employees in reducing environmental impacts at work and at home through our new IGM Green Council.
Diversity and inclusion is also a key priority for us. Every day, we benefit from our diverse workforce through our ability to make better decisions and better serve our clients. We want to reflect the dynamic mosaic that is Canada and are committed to our ongoing efforts to create a more diverse and inclusive environment. We're particularly proud of the initiatives we've put in place to promote gender equality. In 2018 we publicly committed to adhering to the United Nations Women's Empowerment Principles. Our goal is to have at least 35% of our executive roles – Vice-President and above – held by women by 2020. Similarly, we want to have women make up at least 35% of our advisor network by 2020.
To move forward globally to achieve the United Nations' SDGs, we must collaborate for positive change. Some examples of our partnerships include our commitment to the Principles for Responsible Investment, CDP, our "Caring Companies" designation by Imagine Canada, ongoing support for Dyslexia Canada and the Alzheimer's Society of Canada, and our work with Catalyst, the Institute for Gender and the Economy and Women in Capital Markets to advance gender equality. We encourage everyone to join us in working together for a sustainable future.
I'd like to thank our clients for choosing to grow their wealth with us and our employees and financial advisors for their contributions to working towards a more sustainable future. We will continue to make decisions that enhance the sustainability of our companies, communities and the world as we help Canadians to make sustainable financial choices for themselves and their families.
Jeffrey R. Carney
President and Chief Executive Officer
July 16, 2019