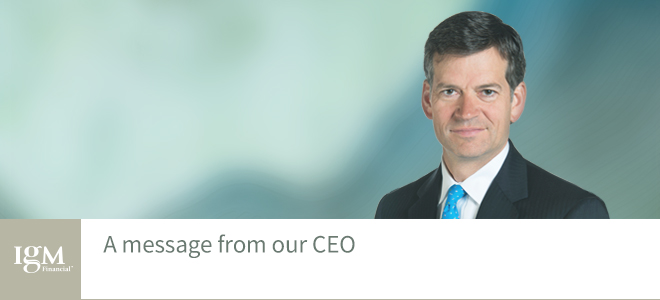 At IGM Financial we are invested in helping Canadians.
We want to be their best choice in a financial partner, one who instills financial confidence and helps them make informed decisions that help them reach their financial goals at every stage of their lives. Being the "best choice" also means being a company that approaches our business through a lens of corporate responsibility.
These are dynamic times – for our company, industry and the world.
Advances in technology, enhanced regulation, changing workforce dynamics, and increased client and advisor expectations set continuing new standards for us. Over the past year, we have taken bold steps across IGM Financial to innovate, deliver client-focused strategies, and position our companies to maximize our potential in this changing environment. With this transformation came new opportunities to realize our corporate responsibility goals.
Take responsible investing, for example. In 2017 Mackenzie Investments commissioned a survey that confirmed increasing numbers of Canadian investors believe that socially responsible investments will become more important to their portfolios. We listened – adding three new funds at Mackenzie designed to generate long-term competitive returns while supporting positive environmental, social and governance change. At Investors Group, we continue to offer the Summa SRI Fund, one of the largest socially responsible funds in Canada.
We also listen to our people, who now participate annually in the Gallup® Q12 engagement survey. We instituted best practices for employee development and succession planning, to provide our people with the skills to excel at their jobs and to help us meet our future talent needs. Investors Group has enhanced its focus on advisor excellence, through mandatory CFP accreditation and a new training approach, to ensure a more consistent experience for clients. We also conducted a diversity and inclusion survey and used the results to inform our wide-reaching diversity and inclusion strategy.
As we continue to unify our culture under the IGM Financial banner, our focus on streamlining and digitization is creating a number of benefits. Combining the investment management teams of Investors Group and Mackenzie Investments has strengthened our ability to deliver the very best solutions and performance to our clients and advisors. Creating more digitized solutions for clients makes their lives easier and helps advisors.
Our transformation has also enhanced our community focus. Now at Investors Group, for example, the company's mission to inspire financial confidence is the basis of new initiatives for those who may struggle financially: youth, seniors, Indigenous Peoples, and new Canadians.
Finally, we are also grateful for the partnerships – local, national and international – that help elevate our corporate responsibility aspirations. Examples include Winnipeg's Indigenous Accord, of which Investors Group is a signatory, and the United Nations' Women's Empowerment Principles, recently adopted by all three operating companies.
It's been a year of much change and great success for our company. We will continue to make decisions that contribute to the positive change happening in our firm, industry, communities, and the world – embracing the possibilities the future has to offer. Through our actions we will inspire financial confidence in Canadians, to help them embrace the future as well.
Jeffrey R. Carney
President and Chief Executive Officer
July 6, 2018