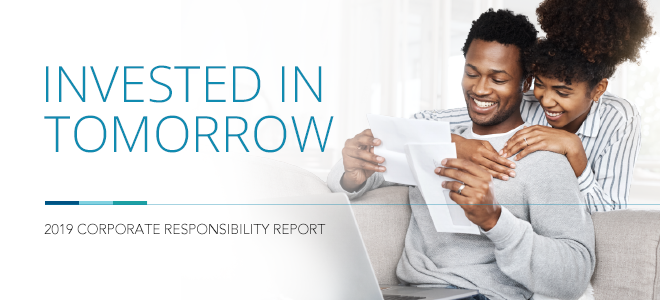 Investing in Tomorrow
At a time of challenge in our world, IGM Financial's long-term perspective, and deep sense of responsibility to our clients and other stakeholders, continue to guide our actions. As the theme of this year's report suggests, we're as invested in creating a better tomorrow as we are committed to meeting the needs of today.
A better tomorrow for our clients
Our mission is to improve the financial well-being of Canadians and help them achieve their goals at every stage of their lives.
With clients increasingly focused on environmental and social matters – whether to achieve better risk-adjusted returns or to contribute to a more sustainable future – we strengthened responsible investment practices in 2019. For example, IG Wealth Management now requires all investment sub-advisors to be signatories to the Principles for Responsible Investment and Mackenzie Investments greatly expanded its company engagements to encourage more sustainable business practices. These are significant steps in using our influence to help shape the world of tomorrow.
A better tomorrow for our people
Empowering our people to realize their goals is a longstanding priority for IGM. We place a strong emphasis on development and our leaders play an active role in ensuring employees get the support they need. In 2019 we enhanced our vacation policy, added two paid volunteer days and introduced 10 personal wellness days to help our people live life well.
We also embrace diversity and inclusion to improve our business and move our industry and society toward a more equitable future. Our highly collaborative approach includes support for seven new employee Partners in Action groups and partnering with outside organizations like Catalyst, Women in Capital Markets and Pride at Work.
A better tomorrow for our communities
We're on a journey to increase the financial confidence of four key groups who are underserved when it comes to financial literacy: Indigenous peoples, newcomers, seniors and youth. We bring this platform to life through IG Wealth Management's Empower Your Tomorrow program.
Our people also play a direct role. In 2019, IG employees and advisors raised record amounts for United Way/Centraide charities and came together in the IG Wealth Management Walk for Alzheimer's. The Mackenzie Investments Charitable Foundation, an employee-run initiative, celebrated its 20th year providing support for women, children and youth in need. At Investment Planning Counsel a volunteer team travelled to Honduras to work with local families to build more sustainable communities. These are just a few examples of how we are helping to build a healthier, more prosperous and resilient society.
Investing in a strong foundation
Exemplary business conduct, robust governance and strong relationships are the foundation of our approach and the reason clients put their trust in us. It's something we never take for granted and continually work to strengthen.
In 2019 we announced our support for the Task Force on Climate-related Financial Disclosures and convened a cross-functional team to address their recommendations. We recognize that the financial services industry has a role to play in combatting one of the most significant issues of our time.
In conclusion, I'd like to extend a heartfelt thanks to all our employees and advisors. We take great pride in what they achieve every day. I'd also like to reaffirm our commitment that IGM remains focused on investing in tomorrow and doing all we can to help build a better future for everyone.
Jeffrey R. Carney
President and Chief Executive Officer