IG Wealth Management and Investment Planning Counsel continue to put the client at the centre of everything we do.
IG Wealth Management
Expert Financial Planning Was Never More Important to Canadians
Nothing was more important for IG Wealth Management in 2020 than reassuring our clients that we were there for them, wherever they were, and that we have the tools to help them achieve their financial goals in any economy.
To facilitate stronger connections between our consultants and clients, we developed the Advisor Portal giving IG's consultants a holistic 360-degree view of current and potential clients. Powered by Salesforce's financial services cloud and delivered with the support of the technology consulting firm Slalom, Advisor Portal makes advisor/client interactions faster and easier, enabling our consultants to work with clients on mobile devices, anytime and anywhere.
As a result of the commitment to be there for clients, IG's consultants exceeded their client engagement target goals, as determined by an independent survey conducted by Gallup, a leading global advice and analytics firm.
 
Inspiring Financial Confidence in Challenging Times
In addition to being there for our clients, IG took concrete action to support the communities in which we live and work, making meaningful investments of money and resources to strengthen the social fabric of Canada in 2020.
IG launched Answering the Call, a program that delivered support to Canada's small and medium-sized businesses (SMBs) and their communities as they navigate the financial challenges of the COVID-19 crisis.
Answering the Call was an extension of the work our consultants were already doing in their communities, and included:
• free regional webinars with tax, financial planning and investing specialists;
• insights on tax planning and how to better understand and access government programs; and
• the opportunity for SMB owners across Canada to be matched with a local IG consultant for a no-obligation consultation.
Community involvement and support is an important part of IG Wealth Management. Through our work with community partners and organizations, we continue to build confidence where it matters.
IG announced an initiative to donate up to $500,000 to support local businesses and their communities, which was in addition to the $1 million donation by IGM Financial along with Canada Life and Power Corporation of Canada to support crisis relief efforts.
To help meet the unique needs of First Nations communities in Canada, IG launched its Empower Your Tomorrow Indigenous Commitment, dedicating $5 million over the next five years to support programs and initiatives to enhance financial skills and confidence in Indigenous communities in Canada.
In 2020, IG Wealth Management also continued its support for The Alzheimer Society of Canada, turning our annual IG Walk For Alzheimer's into a virtual event, with $5.1 million raised by more than 12,000 virtual walkers nationally.
We also had a record-setting year for our support of United Way Canada. Participation was up 27 per cent from 2019, with $912,000 raised across the country, an increase of 10 per cent.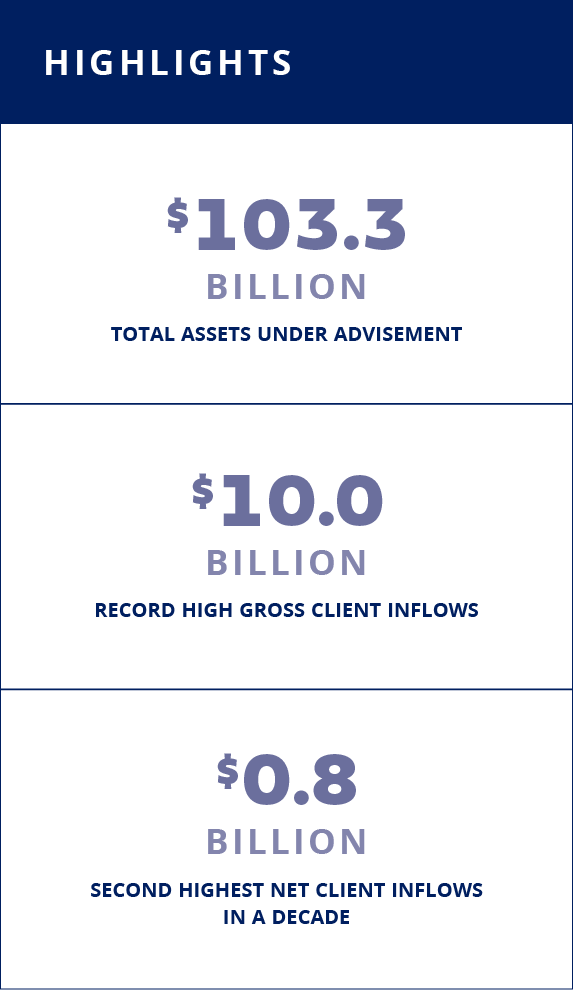 Investment Planning Counsel
The COVID-19 pandemic brought unique challenges for IPC, but the firm still maintained its client-centric growth momentum, continuing to provide independent financial planners with the tools, products and support they need to build a better business in support of the Canadians they are helping.

In September, IPC launched a renewed brand campaign – Advice Your Way – to meet the increased demand of accessing financial advice and guidance through virtual channels. The campaign also provided advisors with an enhanced platform to provide continued advice and support to clients during these uncertain times.

To enhance our investment offering and meet the evolving needs of investors, Counsel Portfolio Services and IPC Private Wealth expanded its product offering to include two new portfolio families: IPC Focus Portfolios and IPC Private Wealth Visio Pools, a series of simplified single portfolio solutions that provide investors with access to a strong combination of leading money managers not otherwise accessible to Canadian investors. These portfolios, launched in the fourth quarter of 2020, attracted close to $50 million in total assets over the final quarter of the year with strong momentum for continued growth in 2021.