IGM Financial strives to be Canada's best diversified wealth and asset management firm and we are proud of the accomplishments and results we generated for our shareholders in 2019.
The year featured ongoing growth and significant milestones for our business as we continued to execute our strategy. We furthered our commitment to our employees, clients, communities and the environment with new programs, partnerships and mandates. This foundation-building positions us well for the future.
Strong Shareholder & Client Results
The financial markets tested investor confidence in late 2018 and this continued into early 2019. However, investors who remained committed to their financial plans were rewarded as 2019 reflected the highest market returns in more than a decade, with most global equity markets delivering double-digit returns.
IGM finished 2019 with record high assets under administration of $190.2 billion and assets under management of $166.8 billion, both up 12% from 2018. Average investment fund assets under management were up 3.3% over 2018. Net earnings were $746.7 million or $3.12 per share and our adjusted net earnings were $763.9 million or $3.19 per share, down 3% from our record high level in 2018.
With our strong balance sheet and cash flow, we continued to focus on capital management activities, returning immediate value to shareholders through dividends. Dividends declared in 2019 were $538 million or $2.25 per share, unchanged from the previous year. IGM also returned $100 million in capital to shareholders through share repurchases. Our share price increased significantly, driving a total return to shareholders of 27.4% during the year.
We are also excited to report that our clients across the IGM group of companies achieved an average investment return of 13% during 2019, helping them plan for the future and achieve their dreams. This, combined with successful refreshes of brands across IG and Mackenzie, drove higher advisor perception scores and improved brand consideration. 
Ongoing Strategic & Operational Transformation
We continued our transformation to modernize our digital platforms and technology infrastructure. This enabled our company to enhance operations, achieve efficiencies and further improve the service experience for our clients. It included a number of important partnerships with global leaders in their respective fields.
For example, CIBC Mellon Global Services Company was engaged to assume most of our fund services functions. Leveraging their scale, industry-leading technology and capabilities allows us to focus on our core business of working with clients to help them achieve their financial goals and aspirations.
We also announced that Google Cloud would manage our data platform. As a result, we became one of the first major Canadian financial services companies to move SAP applications and data to the Google Cloud Platform. This helps us enhance the client experience, leverage operational efficiencies through greater productivity and provides IGM with access to a wide range of capabilities, including advanced analytics, data mining and artificial intelligence.
In addition, we introduced Salesforce, a new Customer Relationship Management platform based on industry-leading technology, to IG Consultants. The new platform enables them to seamlessly manage client relationships, improve their efficiency through digitized workflows, and access data-driven reporting to help them better run their practices.
Our strategic transformation goes beyond client experience and includes progress in the area of expense management, while still allowing us to invest in the future. We managed expenses during 2019 at levels below our guidance. We remain focused on delivering strong earnings growth through operating leverage as we continue to drive our initiatives to automate and improve operational efficiency. 
Commitment to Our People & the World Around Us
IGM Financial is committed to making a positive impact on the lives of our people, the clients we serve, and the communities in which we work and live.
Employee diversity and inclusion continued to be a key priority as we want to reflect the mosaic of Canada. To promote gender equality, in 2018 we committed publicly to adhering to the United Nations Women's Empowerment Principles. Our goal is to have at least 35% of our executive roles — vice-president and above — held by women and the progress we made in 2019 has kept us on track. We also partnered with Pride at Work Canada to promote a more inclusive workplace for all employees regardless of gender expression, gender identity or sexual orientation.
We were particularly proud of the employee engagement scores we received in 2019. To foster a high-performing and diverse culture, we continue to partner with Gallup, a global leader in workforce engagement research. We increased our scores across the board in 2019. This is a validation of our ongoing efforts to build a positive and inclusive culture where employees feel empowered, valued and secure. Leveraging Gallup best practices also helps foster and drive our ongoing commitment to an engaged workforce, with industry-leading training, development and career advancement.
We have a long-standing practice of being responsible investors of our clients' money —incorporating environmental, social and governance (ESG) factors into investment decisions to better manage risk and generate long-term sustainable returns. For example, building on our UN Principles for Responsible Investment (PRI) commitment, IG Wealth Management now requires all investment advisors to the IG product shelf be signatories to the UN PRI. This ensures responsible investment practices are embedded across all investment mandates. Further, Mackenzie and IG continue to make socially responsible investing a priority by offering clients a variety of solutions including the Mackenzie Global Environmental Equity Fund and the pioneering IG Mackenzie Summa SRI Fund.
In 2019 we increased our focus on integrating climate change risk and opportunities into our business by signing the Task Force on Climate-related Financial Disclosures (TCFD) recommendations. We were also the only Canadian firm recognized on CDP's Climate Change A List for the second year in a row for our efforts in tackling climate change. 
Wealth Management
IG Wealth Management continued to strengthen our industry-leading financial planning capabilities to unlock clients' full wealth potential. The talent we've attracted to our IG Consultant team and enhanced new recruit productivity have allowed us to increase our focus on holistic wealth management, providing quality financial advice and delivering great service

During 2019, our client assets under administration grew to $97.3 billion, an increase of more than $10 billion from 2018, while our mutual fund gross sales remained at near record high levels of $8.7 billion. We also made significant progress with our ongoing focus on the high net-worth (HNW) segment across our IG Private Wealth Management business. In 2019, 52% of sales came from HNW solutions, up from 28% in 2016. We are proud of this success.
Our National Service Centre, launched in 2018, also hit a new milestone with more than 200,000 clients and $1.7 billion in assets under management. The National Service Centre allows us to offer a targeted, consistent and improved real-time experience for clients with smaller accounts, while our credentialed planners focus on those clients who have more complicated and sophisticated needs.
IG clients also benefitted from new product offerings and managed solutions, supported by partnerships with high-quality sub-advisors, including Blackrock, T. Rowe Price, Pimco and Mackenzie Investments. Importantly, 9 out of 14 of IG's wealth management portfolios rated 4 or 5 stars according to Morningstar Canada (a leader in global investment research).
Also driving our 2019 success in the wealth management space was the performance of Investment Planning Counsel (IPC). The firm introduced an integrated marketing campaign to recruit entrepreneurial advisors. It also relaunched its Total Client Experience (TCE) business system. TCE simplifies, modernizes and digitizes processes to make it even easier for advisors to deliver professional, consistent service every time they interact with clients. 
Asset Management
Mackenzie Investments' ongoing commitment to providing retail and institutional investors with choice, innovation and performance was recognized in 2019, with four Mackenzie mutual funds and ETFs winning 2019 Lipper Awards, which honours funds that lead in delivering strong, risk-adjusted performance, and 12 funds recognized for industry- leading performance at the 2019 Fundata FundGrade A+ Awards.
During the year, we achieved our highest gross retail sales in 20 years, fuelled by positive flows in both our mutual fund and ETF businesses. Our multi- channel, solutions-oriented strategy continues to drive choice and innovation for the organization and contributed to helping us reach more than $140 billion in assets under management in 2019. We also continue to be encouraged by the progress we are making in our institutional business and look forward to carrying this momentum into 2020. 
Forty-seven per cent of our assets reside in mutual funds rated 4 or 5 stars according to Morningstar Canada. Our ETF business, which launched just three and a half years ago, has become the sixth largest in Canada, with almost $5 billion in assets under management across 30 products.
We also continued to be a leading voice within the Canadian asset management industry. Cormex Research, a third-party media content and analysis firm, consistently ranked us among the leading independent and bank-owned firms in earned media share of voice throughout 2019. As such, we are defining and shaping the discussions around key trends and issues in our sector.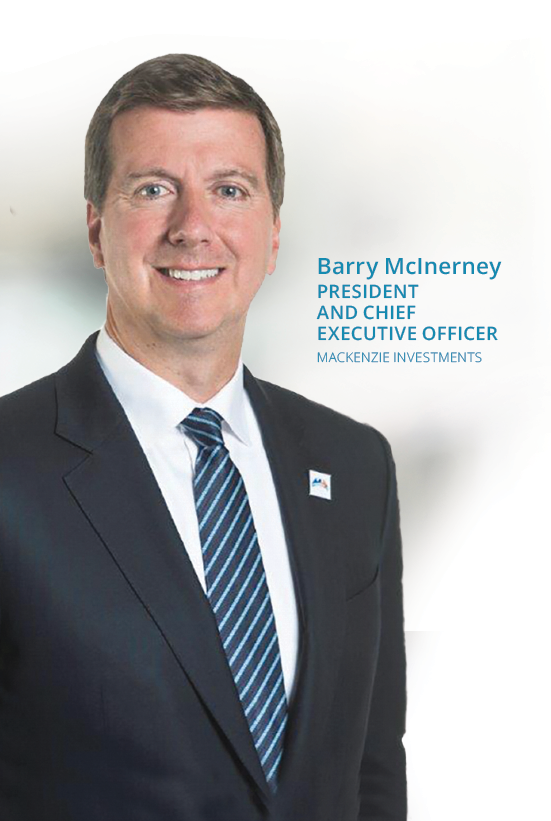 Strategic Investments
The strategic investments we have made position us well for future growth. They also benefit us by allowing our core businesses to participate in opportunities in Canada, the US and in the significant growth taking place in China and within the dynamic and rapidly emerging fintech sector.
One of last year's highlights was the additional USD $50 million investment we made in Personal Capital, a US online financial advisory and personal wealth management company. Personal Capital continues to see significant potential with USD $12 billion in assets under management, a 57.2% increase year-over-year and tracked account value of USD $841 billion, a 32% increase from 2018.
We also made an additional $51.9 million investment in Wealthsimple Inc., Canada's largest online investment management service, as well as a $14.8 million investment in Portage3 Ventures, a fintech venture capital fund.
Our ongoing investment and growing relationship with China Asset Management Co., Ltd. (China AMC), a premier asset management firm in China, allowed us to continue to benefit from the dynamic market growth taking place there and provided Mackenzie with opportunities to leverage synergies, benefiting both Canadian and Chinese investors. China AMC had $192 billion in assets under management in 2019, an increase of 17.3% from 2018. 
IGM is uniquely positioned to continue to grow our business, drive shareholder returns and help our clients build their dreams and achieve their financial goals. The progress and advances we have made in innovating and streamlining our business have put us on a path to accelerated growth in the decade ahead.
We're building on strong foundations through our brands and our holistic approach to financial planning and investing. Our diverse range of products, solutions, distribution channels and geographies put us in a position for strong growth in the wealth and asset management industry — for our clients and shareholders. We take great pride in our team and what they achieve every day. Their commitment and teamwork propel us forward. IGM has the people, culture and strategies that will enable us to keep innovating and growing on behalf of our clients, our shareholders and our communities.