IGM Financial is well-positioned to meet the needs of Canadians through its two operating companies focused on wealth management. IG Wealth Management and Investment Planning Counsel put the client at the centre of everything we do.
Enhancing Canadians' Financial Well-Being
In 2019, IG Wealth Management introduced several tools to help bring the IG Living Plan to life, including the IG Living Plan Snapshot and Assessment.
These proprietary online resources bring together the company's expertise and experience in financial planning, digital technology and data science. The tools provide an assessment of clients and consumers financial well-being along with actionable next steps. Clients also have access to the Retirement Paycheque which displays the monthly income a client could expect to receive in retirement based on their current plan.
Inspiring Financial Confidence
Building on our legacy of giving back, the IG Empower Your Tomorrow program provides Canadians with the resources and confidence they need to own their financial future. The company has identified and is working with, four at-risk groups that stand to benefit the most from financial guidance; Indigenous peoples, newcomers, seniors and youth. In the fall of 2019, we updated and re-launched our Money & Youth financial literacy textbook and website, which reached more than 43,000 high school students across Canada. In addition, the second annual national IG Wealth Management Walk for Alzheimer's program raised more than $6.25 million dollars, a 22% increase year-over-year. By working with community partners and organizations – along with IG Consultants, employees and clients – IG Wealth Management is building confidence where it matters.
Transparent & Simplified Client Experience
IG Wealth Management continued to deliver on its client-focused commitment by making fees easier to understand while introducing product and pricing changes to accelerate asset growth for clients. The IG Advisory Account (IGAA) is a new fee-based account offering clients the ability to simplify and consolidate selected investments into a single account, while providing them with competitively-priced, unbundled pricing options. IGAA was available to all clients in January 2020.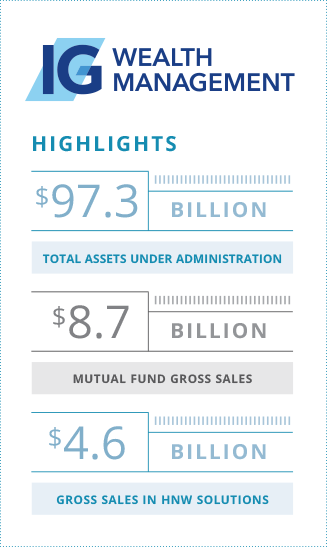 INVESTMENT PLANNING COUNSEL
Redefining the Client Experience
Investment Planning Counsel (IPC) enjoyed a strong 2019 with several initiatives contributing to the firm's success.
The introduction of an integrated marketing and recruitment campaign to target and recruit prospective advisors better positioned IPC as the dealership of choice.
With the success of its 2018 Corporate Branch Pilot Program, the company expanded the program in 2019 to nine corporate offices across Canada. The initiative offers advisors the ability to plan their succession by either transitioning their business to a team that would care for their clients in the IPC way or by joining the corporate branch as a corporate advisor.
Also in 2019, IPC's award-winning Total Client Experience (TCE) program was simplified, modernized and digitized, making it easier for IPC advisors to deliver a consistent yet remarkable experience to every client.